6 Tips for Marketers During and After the COVID-19 Pandemic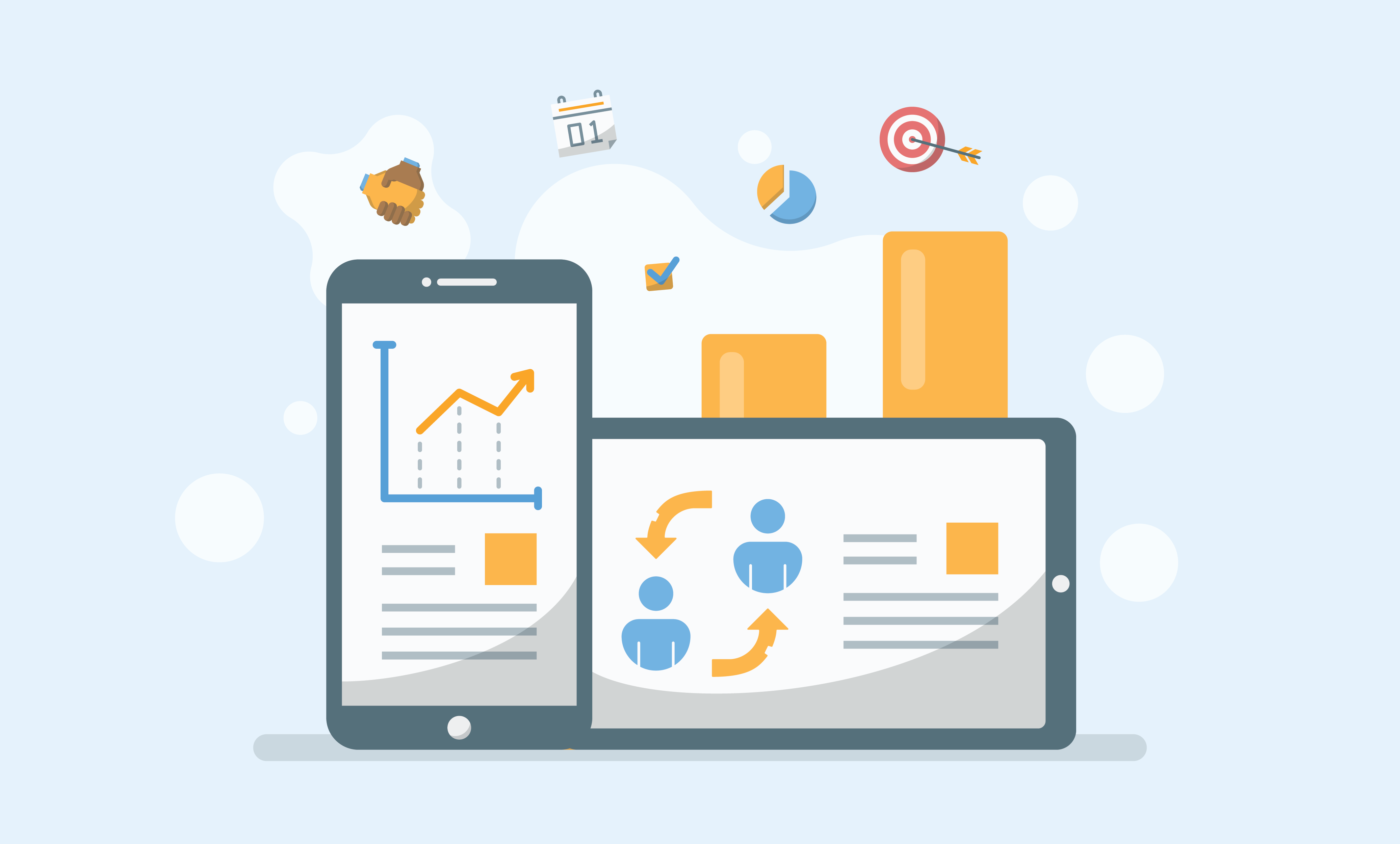 COVID-19 isn't going away any time soon, and marketers need to stay smart about how to best reach their audiences and boost their brand. Here are our top six tips for companies to strengthen their marketing efforts in year two of the pandemic.
Be authentic.
For many people, the risk of infection and adherence to restrictions are still ever-present, which has resulted in a large shift from in-person to online connections, according to the New York Times. We're closing in on our second year of the pandemic, but the end doesn't seem to be in sight, which means many people will continue working from home and avoid seeing as many relatives or friends in person. Isolation behind masks and screens has left people with a desire for authentic connection. 
Being able to communicate honestly with your consumer will give you an edge over your competitors. This authenticity can come in many forms, but a good rule of thumb is sticking to your brand's values and creating messaging and ads that resonate with your audience without pandering.
Dove's 'Real Beauty' campaign is a fantastic example of authentically marketing themselves as a brand that wants "beauty as a source of confidence". The campaign began in 2004 and is still at the core of Dove's messaging. The central idea is that beauty is not a narrowly defined quantity, and the campaign exemplifies this by showcasing women of various ages, body types and skin colors, all while promising to "never use models" and "zero digital distortion of women". While today this campaign is intertwined with Dove's core values, back in 2004 it was seen as a large gamble. However, at the end of their fiscal year, Dove saw a 6% increase in total sales according to Adweek.
The campaign started nearly two decades ago and is still being effectively used today. Authenticity is a timeless concept that has always been important, now more than ever.
Reassure your customers in a fresh way.
We've all heard the phrase "in these uncertain times" again and again throughout the pandemic. It's starting to feel a little cliché at this point, but the sentiment behind this statement is still a very important one to maintain in your marketing strategy. Many people are still scared and have a strong feeling of uncertainty about the future. 
According to Very Well Mind, 33% of Americans are worried about future pandemics, and 40% say they worry about the future multiple times a week. The best thing a company can do is to remind their customers they are still available in times of need.
A great way to maintain this is to continue sending e-newsletters, posting regularly on social media, informing them that you are taking COVID-19 seriously and creating messaging around the promise of assurance and comfort. Morning Consult conducted a study in which 44% of respondents wanted ads to include information regarding a company's adjustments to COVID-19, such as store closures and new online options. 24% stated they wished to know what the company is doing to assist those in need during the pandemic. 
We are well over our second year into the pandemic and tired phrases are not going to cut it, according to the Wall Street Journal. Creating an empathetic and unique marketing strategy is the key to standing out among the sea of other brands also offering reassurances. Think about what would fit your brand and who your core audience is, then shape your reassuring messaging around that. 
Stay agile.
With so much of the future not being guaranteed, it can be easy to slip into a comfort zone and rely on what you know or what you believe has always worked. This is not the way to react in a time of crisis. The most important thing you can be is agile.
The ability to pivot your marketing to adjust to the current narrative will allow your branding to stay relevant and help you effectively communicate with your audience. For example, when COVID-19 vaccines became readily available, the Ad Council launched a $52 million campaign called "It's Up to You" in order to get younger people vaccinated. Even though vaccines were available in December of 2020, the Ad Council had to quickly switch ideas for the campaign in response to the rate of vaccination for each age group. Because of this, the campaign featured prominent scientists, like Dr. Anthony Fauci, and celebrities, like Angelina Bassett, encouraging people to get vaccinated.
Invest in your website.
With nearly everything and everyone online, a robust website is a necessity that will help your business grow through the pandemic and beyond. Having a beautiful website that is fast, up-to-date and showcases your credibility in your field is a great way to build out your brand and attract new customers. It's also an excellent way for customers to find your business.
All of the most popular websites work quickly and have a prominent design that's easy on the eyes. You want your website to encourage people who visit it to stay on for a long time, like Facebook, LinkedIn or Netflix do on their platforms. At Good Aim Communications, we know how important it is to have a great website. You should optimize your site for mobile, create long-lasting content like blogs, add keywords to all your website pages and improve the experience of your website overall. We help create beautiful and fast websites for clients like Green Square and Chicago's Pizza.
Show you care.
During the pandemic and even into the future, people want to see the positive societal impact that companies they support have on the world. Does your brand help those in need? Does your brand commit to being green? Does your brand have a team volunteer day? These are things that will help show your audience that you care.
Look at the outdoor clothing company, Patagonia. Instead of showing their new products or discounts for the holiday season, they talk about passing gear to others or giving knowledge, giving back or giving responsibly. People like supporting their brand even if it's more expensive because consumers seethe company they support makes a difference.
Content that promotes these good works can be a nice change of pace from the negative news consumers may be used to seeing. However, genuineness must be at the crux of this campaign. Otherwise, it will come across as self-promotion in response to tragedy on the part of the company. Audiences can determine when a company is being truly altruistic, and to be seen as disingenuous would be worse for your brand than if you had done nothing at all.
Think forward.
As we know, our fight against the COVID-19 virus is ever-evolving, and your marketing plan must evolve with it. When it comes to social media and blogs, incorporate the ability for rapid response into your company and do not be afraid to use remote production techniques for interviews and photos.
Companies should also think about what types of media they are putting out to consumers. As the popularity of short videos and clips grows, businesses may want to invest more in making creative video content than long-form media placements. With more people on their phones, social media advertising tends to be to be a more affordable and practical solution as many people are still working remotely.
The past two years have changed what consumers want from brands and the way that marketers should approach their audiences. Use this time to clarify and establish your genuine and generous brand, then invest in a strong digital presence to let your brand shine.