5 Social Media Best Practices to Boost your Brand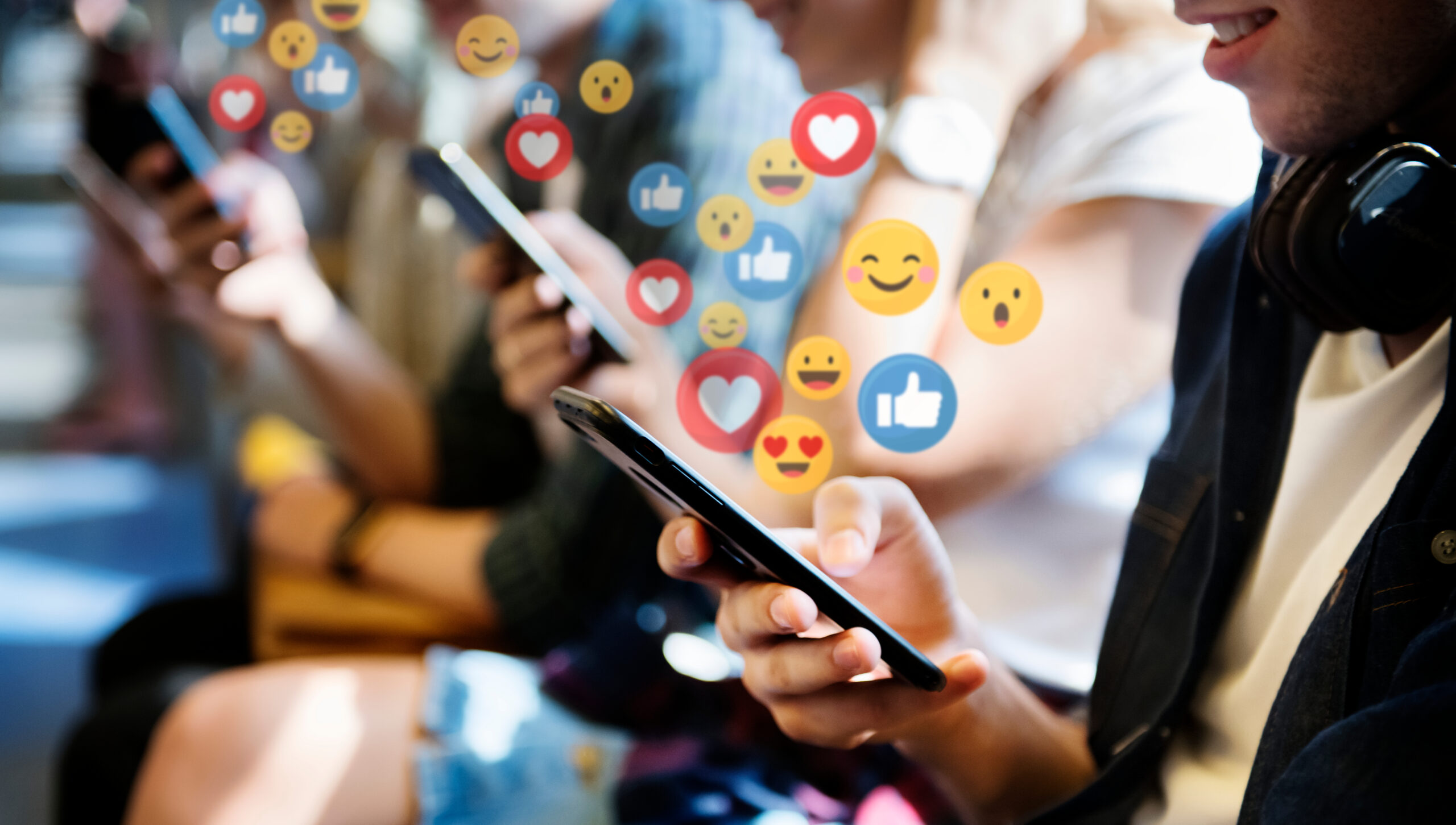 Tweeting and sharing, posting and uploading, streaming and commenting—social media is a part of our daily lives. Over half of the world's population (56%, to be exact) uses social media.
Not only are marketers eager to reach out to the huge audiences on social networks, but consumers are looking to hear from brands on social media, too. 54% of Gen Z and 49% of millennials say social media is their preferred channel for ad influence, and over half of social browsers use social media to research products.
Underperforming on your company's social media platforms could be hurting your brand, causing you to miss out on sales conversions and failing to connect you with the millions of audience members online every day.
If you're looking to boost your brand on socials but aren't sure how, here are our top five social media marketing best practices in 2021.
Know your audience.
Getting specific about who you want to reach on social media will help guide your social media strategy. How do you define your target audience? Is it working moms? Gen-Z college students?
Ask yourself questions about how to describe your audience in even more detail: What age is your audience is? Where do they live? How much do they earn and spend, and what do they buy? What stage of life are they in (new mom, student, etc.)?
If you're unsure of how to define this group, survey your current customers, social media followers, and the followers of brands you compete with or seek to emulate.
Defining your audience is the first step in creating a social media strategy. A little bit of research (see: this article from the Pew Research Center) can go a long way in telling you which platforms to focus on and which to ignore for your given audience group. For example, whether you should devote more of your efforts towards Instagram or Facebook depends on which audience you're trying to reach.
Set your goals and define your strategy.
Running stellar social media campaigns doesn't just happen—it comes from setting goals and planning out how you'll reach them.
First, ask yourself: what do you want to accomplish on social media? Sell products? Interact with your community? Build your brand?
For example, if your biggest goal is to drive sales and generate leads, you should be tracking click-through rates to your website, sign-ups for your email, sales, etc. and your social accounts should be oriented toward inviting followers to take those actions. Tracking these metrics over time will help you to determine whether you are reaching your social goals or not.
Assess your current social media efforts and locate the performance indicators and metrics that demonstrate how close you are to reaching your goals. After all, if you can't measure it, you can't manage it. See the charts below for a better understanding of companies' different goals for social (sourced from Sprout Social and Hootsuite).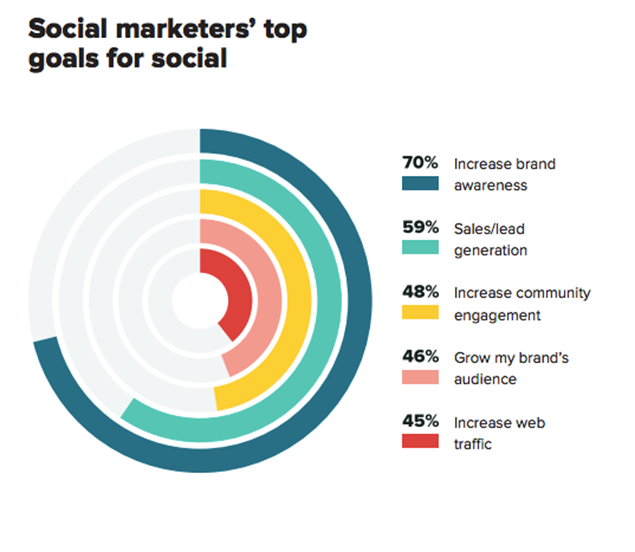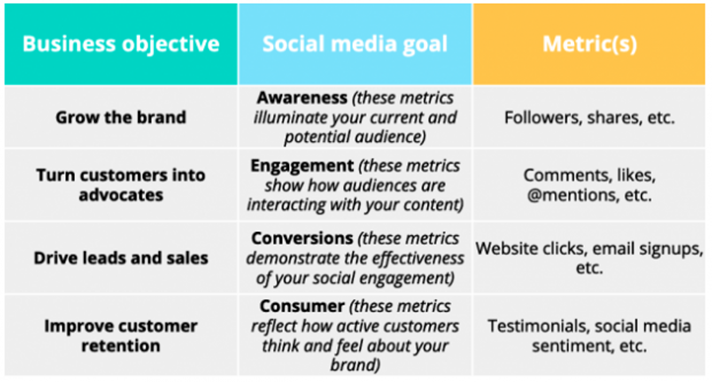 Join the conversation.
A great social media account isn't like a Ted Talk, where you're spewing content out to your audience with little interaction. Rather, it should be a multi-way conversation between your company, your audience and potential customers and other stakeholders in your industry.
There are a few ways to monitor relevant conversations on social and join them:
Social Oxymetholone for sale online listening about your brand:
Is anyone already posting about your brand? What are they saying?
Monitor conversations relevant to your industry:
What's the hottest news in mindfulness, cryptocurrency, etc. right now? How can you engage in that debate or comment on recent events?
Respond to comments or mentions in your feed:
There's no better way to make your audiences feel heard and valued than to answer their questions and respond to their comments.
When building your weekly social media time allotment, be sure to budget some hours for generating organic and genuine dialogue on your feeds.
Establish your social media voice and tone.
If you've been active on any social network this year, you've probably noticed the broad range of voices that businesses assume when sharing their content, whether playful, wise, chipper, hip, dependable, and so on.
For example, the Calm app brands itself as being a soothing and reassuring resource—which we can see reflected in their short but meaningful tweets.
The fast-food chain Wendy's, on the other hand, has doubled down on having a playful and casual tone on their channels that appeals to a younger audience.

After establishing your goals to guide your social media strategy, develop a list of which adjectives you would use to describe the voice and tone of your social accounts. Keep these terms close when writing copy for your channels and in all your communications. Check out this chart about how to define your brand voice below.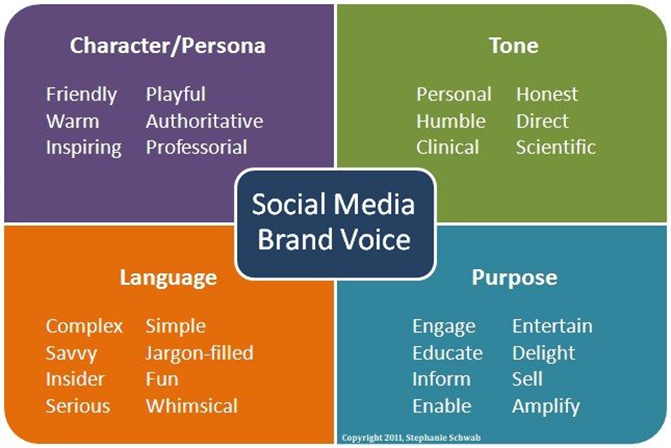 Use the rule of thirds.
Maybe you've heard of the rule of thirds in photography and film, but did you know that it applies to social media content, too? Rather than guiding where the subject should be placed in the frame, the social media rule of thirds guides your social media content. Here's the rule of thirds breakdown of what you should be posting, as defined by Orbit Media: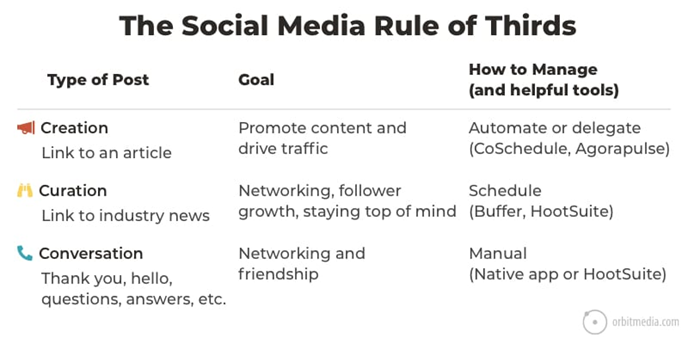 Of course, promoting your own content and driving traffic to your website ('creation' in the chart above) is important, especially if you have a stellar new blog or product on your website that you can't wait to share.
But neglecting to actually be social on social media prevents you from gleaning a lot of the benefits of posting in the first place. An additional 1/3 of your posts should be sharing content by influencers or partners, relevant news or information from your industry, or mentions of your company in other publications. This is what Orbit calls curation.
Not only does this make your feed more helpful and authentic, but it can help you foster and build relationships with other stakeholders in your industry.
The final key part of social media is the most social aspect of all: directly interacting with others! (Conversation in Orbit's rule of thirds).
According to Hootsuite, this can include personal stories, perhaps about the people that work at your company (faces!). But it also includes responding to questions, congratulating accomplishments, commenting and liking other posts, saying thank you, etc.
All in all, social media is an important part of digital marketing and building brand awareness, with new users joining social platforms every day. A strong social media strategy requires planning and monitoring, but by implementing these five best practices you'll be well on your way.