Picture Perfect: Why high-quality images take your content to the next level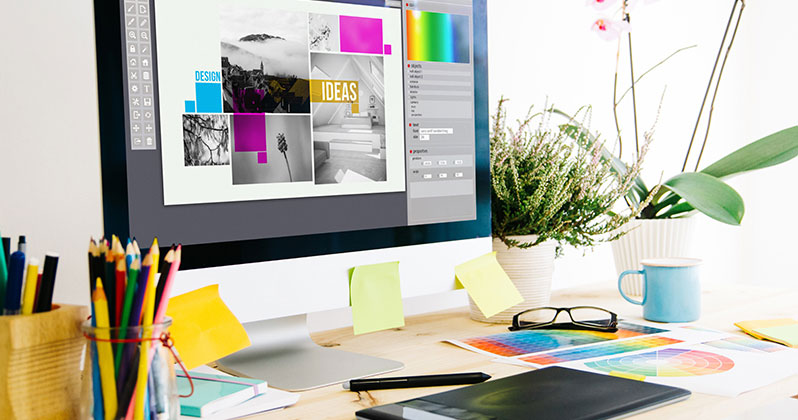 "You never get a second chance to make a good first impression," as Will Rogers, famed actor and humorist from the 1930s once said. While this is certainly accurate in personal relationships, it's also unbelievably true when it comes to your digital presence. According to a study from the Missouri University of Science and Technology, "it takes users less than two-tenths of a second to form a first impression" when viewing a website. How long is two-tenths of a second? Try this: blink twice in a row. That's about how long you have to make a good first impression with your website and brand.
Studies show that the best way to make a positive impression is by using high-quality visuals in your website and media. To help make your content stand out from the get-go, we've tackled some common questions about images and branding.
Why are visuals so important when it comes to marketing and social media?
According to the Massachusetts Institute of Technology (MIT), "the human brain can process entire images that the eye sees for as little as 13 milliseconds." To put that in perspective, blinking takes 100 to 150 milliseconds. That means your brain can process an entire image about ten times faster than one blink! But what effect does this have on marketing and brand recognition? The data is actually quite conclusive.
As stated by MDG Advertising, "articles with relevant images get 94% more views, on average, compared to articles without images." That means that you could only be getting 6% of potential views for your articles or blogs if you post them without images. The numbers are just as staggering when you look at other digital media channels. In a 2015 article from Buzz Sumo, a study of over 100 million Facebook updates "found that updates with images had an amazing 2.3x more engagement than those without." But it doesn't stop there. According to Buffer, tweets with images had 89% more favorites and 150% more retweets.
It boils down to this: visuals make a huge difference in getting the attention—and clicks—of your audience, no matter how great your content is alone
Why is it important to make sure you're using high-quality images and graphics?
It takes two blinks for people to make up their minds about your brand. Having a visually appealing website with high-quality images makes a huge impact when it comes to engagement on your site.
A website with poor quality images is a crucial design flaw—and according to a survey from Vistaprint in 2017, 42% of potential customers who "found a website to be poorly designed" said they would not be likely to purchase from that site! An additional 21% of those surveyed said that were "not likely at all" to purchase from a poorly designed website. That means that an ugly website with low-quality imagery could be costing you more than 60% of all your potential customers.
So, what exactly is a high-quality image? Three crucial components determine an image's quality, according to Blue Frog Marketing: sharpness, relevance and loading speed. An image that's blurry or pixelated signals laziness, irrelevance confuses audiences and images that don't load frustrate users before they can ever see the photo or graphic.
You always want to present your company in a professional way. High-quality images and graphics go a long way in presenting your business as a reputable entity with an eye for detail. The right image can help tell your company's story and communicate your work culture and core values to your customers.
What's the easiest way a company can build up its image library?
Now that we've established that you need high-quality images for your website and online presence, how do you get those images? Here are a few ideas:
Invest in the best stock photos. Get a membership with a stock photo company, such as Shutterstock.com. You and your team must be crystal clear on your brand so your images reflect who you are. Cheap and/or irrelevant graphics and photos often come across as spammy. We recommend editing the images to match the same tone if the photo licensing allows.

If you're tight on money, you can use free images from sites like unsplash.com, pexels.com or pixabay.com.

Use a professional photographer. Have a company event and hire a photographer to take photos. Organize a fun photoshoot day in your office to build your photo library. Cater lunch for the team and put together images from the day that reflect your office environment.
Take your own high-quality images. Purchase your own DSLR (high-quality digital camera) and have someone designated to take photos at all events and activities for your company. You will need to make sure this person has been trained to use the camera, take effective shots and edit well. A little upfront investment can ensure that you have great content to constantly use in your online presence.
Are there cases where a lower quality image might be the best to use on social media or for any other types of marketing?
High-quality images are always preferable. However, if you're deciding, for example, between a lower quality candid shot of a team member and a high-quality stock photo of a stranger, always go with the one of your employees. When compared to a stock photo, web-based research lab Marketing Experiments found that a recognizable person generated a nearly 35% increase in click-through rate. Genuine, authentic photos usually perform well on social media, and, more importantly, they allow you to showcase the faces of your business. If possible, though, try to get both genuine and high-quality photos.
Conclusion
It's hard to deny that having high-quality images is vitally important to your company's digital presence. Focus on capturing high-quality and genuine photos as well as using informative and clean graphics for your business. It's extremely professional to have not only a high-quality image but also one that's authentic to your company and brand. A business loses some of its credibility and professionalism when they post low-quality images and graphics or ones that look super "stocky" or staged. And remember, you only have two blinks to make a good first impression.
Excited to take your digital content to the next level with stellar and engaging images? Contact us at info@goodaimcommunications.com to learn how our team can help.