8 Things to Keep in Mind Before Building a Website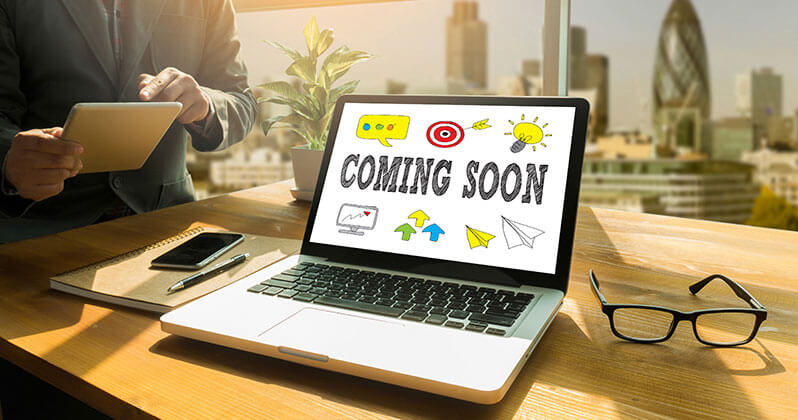 If you're a business owner and you're considering building a website, it's possible that you feel overwhelmed by all the options and possibilities when it comes to spotlighting your company and establishing an online presence.
No need to worry—we've compiled a list of things you may need to consider so that you can make the best decision for your business. Here are eight things to keep in mind before building or refreshing your website.

PREPAREDNESS
The function and purpose of a website can differ from business to business. So how do you know when you're ready to build (or re-build) a website? One way to determine this is to simply go through the existing website and check for errors or outdated information.
You may find that your company offers different services than the ones represented on your site. You may want visitors to know new things about your business, and your website is the perfect way to communicate those things. Or perhaps you want the user to do different things once they get to your site, like read a blog or download a new resource.
If your website is looking dated, you may need to spend some time updating it and making sure you and your customers are connecting with the way the site looks and functions. Good Aim Communications can help with this!
We offer brand and website development, and can even help you maintain your website and social media platforms.

BENEFITS
There are many good reasons to build a new website. Having a new site is a fresh beginning. It's a new stake in the ground of the internet, and it can open all kinds of opportunities for renewed and more relevant search engine optimization (SEO) terms—not to mention potential increased revenue.
There are also benefits of maintaining a website and keeping it up to date. An updated website stands as the primary and initial representation of your business. Within just a few seconds, a visitor to your site can tell how much effort you put into your online presence.
The health and usefulness of your website is a testament to how you treat your customers. As more and more people start to use online channels to connect with businesses, it's vital to have a website that reflects your commitment to delivering quality goods and services to both your existing and potential customers.

OPTIONS
When it comes to building or refreshing a website for your brand, you have a few options. There are two ways to build a site if you choose to do it internally: build it on a cheap and easy platform, such as Squarespace, or hire a web programmer who can lean on your internal communications team to make it happen. This team would be made up of a website architect, a writer, a designer and a project manager.
Maybe you don't have an internal communications team with website development expertise. A better choice for you may be to build a website by hiring a consultant or a communications firm (like Good Aim Communications). If you choose to hire a consultant, look for those who listen well, have a nice portfolio of websites they've worked on in the past and are dedicated to seeing your website through to successful completion.

TEAM OF EXPERTS
If you decide it's time to build or rebuild your website, there are certain experts you'll need to recruit to ensure that everything is done correctly so that you can avoid foundational issues in the future. Here are the experts we recommend:
Website architect – This is someone who understands your brand, your services, your pain points, your audience and what you're aiming to accomplish. This person develops the website concepts, content flow and site map.
Writer(s) – This person drafts all the content for the site, including blogs, news items and graphic overlays for hero spots and sidebar blurbs or lists. It may be useful to have more than one writer to ensure all content is accurate and written in a way that best suits your business and site.
Designer – This is the person who translates the vision and content into a beautiful website with appealing design and formatting. Designers can also help create visuals for other communication channels like social media or advertisements.
Web programmer – This is someone who hears the music of the website architect, pulls the words from the writer and builds the site the designer created in an online platform. They're the glue that holds everything together!
Project manager – This person keeps the trains running on schedule and holds people accountable in order to meet deadlines. They're essential to multi-faceted projects like building or refreshing a website.

PLAN AND BUDGET
Building a website is a huge task. How do you come up with a plan, stick to it and keep it organized? Aimee Morgan, owner of Good Aim Communications, recommends a multi-phase timeline—from initial meeting through rounds of edits and, finally, to a staged website.
"I also strongly recommend a project management tool," Aimee says. "If you're doing everything internally, Trello would be a great option. If you hire a company to build your site, ask what project management software they're using and if you can have access to your project details so that you can follow along and stay up to date."
Planning and scheduling regular check-in meetings with your consultants is another great way to stay on track and ensure goals and expectations are being met.
Budgeting for a website depends on what it will include. Building a website is kind of like building a house. It is your online storefront, after all. Just as houses can span a wide range of prices, so can websites. It depends on how many pages of content and design you'll need, what functionality is required, what level of SEO will be necessary, how much content is already available and what will need to be curated (e.g. staff photos, blog posts, testimonials, instructional videos, etc.).
Most websites that Good Aim Communications builds are anywhere from $10,000 to $20,000. If it's a small or simple website, or perhaps only a landing page or addition to an existing website, it would likely be cheaper.

CREATIVITY AND CONNECTION
When it comes to designing your website, be bold and decisive. It's important to stick close to your brand and be true to who you are as a company. Use your website to showcase the work you do and the faces of your company. Include genuine photos and videos of your team doing the work so that visitors of the website can see you in action. This adds a personal touch that will make your website stand out from others.
Also use your website to address your target audiences' wants and needs. Offer your knowledge generously to help and support them and be sure to follow up. Ensure that website visitors provide some piece of their contact information so that you can continue to stay top of mind as they consider buying your products or services. You can do this by offering a free download in exchange for their email address or phone number or asking them to sign up for your e-newsletter.

MAINTENANCE
Once your website is built, it'll need ongoing maintenance to keep your site and its content accurate and secure. Many companies don't offer website maintenance packages, but Good Aim Communications does! We have deep experience, strong internal management systems and several web support team members ready to assist you.
A successful online presence isn't just paying a company to build a website and nothing more. You'll need to plan to continually update and innovate your online presence to help achieve your goals and grow your business. This is another way you can make your website stand out from the crowd.
Stay up to date on current trends and industry news and include these insights on your site. Be open to restructuring your website down the line so that it's always easy for customers to navigate and get what they need.

AUDIENCE
Audience is key when it comes to driving traffic to your website. If you're a business owner, you likely already know what kinds of people you're trying to attract. And if you don't know, ask yourself: Who would most benefit from my products and/or services?
Once you've determined your target audience, consider where this audience hangs out, what their pain points are and what brings them mountains of joy. Use that information to structure your site and its content.
Aside from your website, there are a few other ways to attract the right audience. You can invest in SEO, search advertising, social media campaigns, email marketing campaigns, unique collaborations and lead-generation events (online or otherwise). Again, consider who and where your audience is. Hone your marketing messages and audience demographics to reach your target market with precision.
Creating a website is an exciting experience, and it takes dedication from all team members. If you want to talk to someone who's been in the website building and maintenance business for over 17 years (and still thoroughly loves it!), Good Aim Communications is here for you. Reach out to us at info@goodaimcommunications.com.